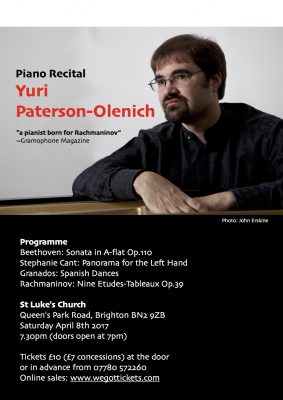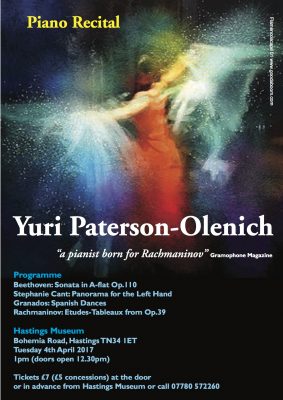 Yuri will play Panorama for LH at two concerts in Sussex.
The first at a lunchtime concert at Hasting Museum on April 4th
Doors open 12.30pm for a 1.00pm start
The second at an evening concert at St Luke's Church Brighton on April 8th
Doors open 7.00pm for a 7.30pm start.
The title Panorama comes from two sources. First of all, the initial musical ideas and the opening of the work were composed whilst I was on holiday in the Vosges Mountains, Alsace, France in a hotel called Panorama because of the wonderful views from its rooms. Secondly, when I began serious work on the score sometime later, my aim became to somehow explore the whole 'panorama' of the keyboard.
The work has two musical themes, introduced in succession at the start of the piece. The first is lilting and lyrical, the second more angular and staccato. From the outset they interrupt each other's progress, the second, more angular theme inhabiting a lower register than the opening lyrical melody. Subsequently they interweave – the one taking musical characteristics and keyboard territory from the other, leading eventually to a dramatic resolution.
The work was composed for Yuri.